When it comes to remodelling your kitchen, you are often overwhelmed with so many ideas that you don't know where to begin, let alone which idea to settle on. For guidance, it is sometimes helpful to look at what is currently trending in the world of kitchens. This can give you some helpful guidance and therefore help you settle on your final idea.
In this blog, I shall detail many key kitchen trends for this year, as well as my predictions for the upcoming year, in hopes of steering you in the right direction for your kitchen design. Remember though, as great as it is to design your kitchen so it is right on trend, you need to ensure that you absolutely love these ideas before going ahead with them. It would be silly to follow a trend you may fall out of love with years down the line, don't you think?
With that said, let's delve into this years kitchen trends!
Year after year, green is the top kitchen paint colour. It's a colour that is always sure to stand the test of time! This year in particular green painted kitchens saw a 19 per cent rise in searches on Pinterest. Whether you choose deeper shades of green or lighter hues, there are so many different varieties you can choose from. In particular, I really love Farrow and Ball's 'Pigeon' which looks stunning painted on classic Shaker cabinets.
But, why choose green? Green is a lovely colour to bring an air of nature into your space along with breath of fresh air. With the variety of shades that are on offer, you can choose subtle shades, to deeper and brighter shades which all look breathtaking.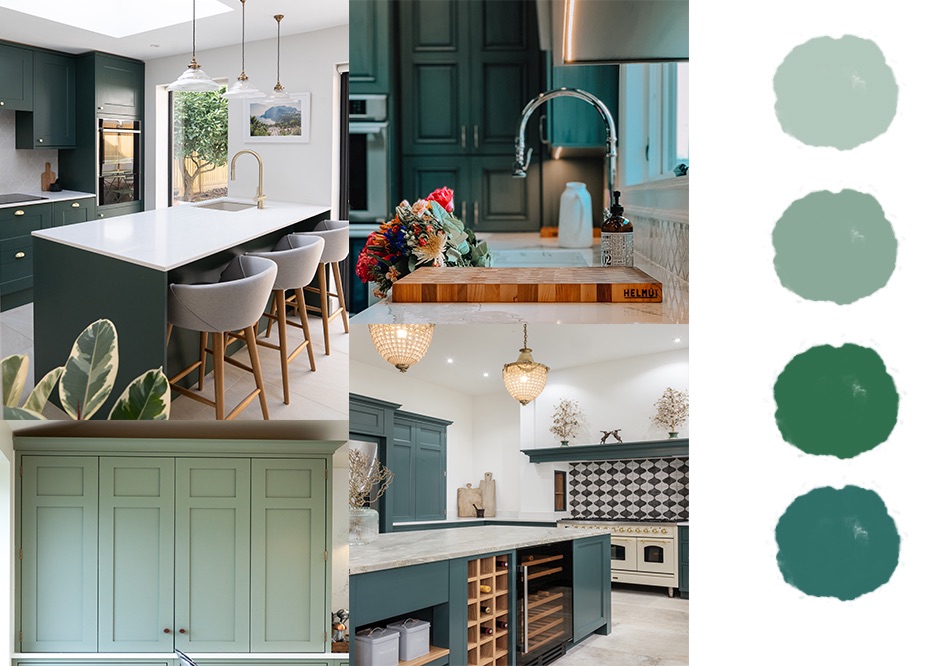 Staying on the green theme, the paint colour isn't the only green thing that homeowners are loving at the moment. House plants have seen a large surge in popularity all round the house, not just in the kitchen.
Houseplants are great for improving your homes aesthetic, as well as softening spaces, highlighting accents. Did you know that they provide a wide range of mental health benefits thanks to their ability to boost productivity and relieve stress? They are also a brilliant way to introduce texture into your kitchen, as well as a pop of colour if you have opted for a neutral cabinet colour.
Sleek, modern bar pulls are the most popular cabinet handles right now and have been for some time. This popularity can be attributed to their versatility; they can be styled in a variety of ways, both contemporary and classic.
Finishes that remain popular this year are matte black and antique bras. Matte black is a good option for those who don't want flaking paint or chips on their hardware. Conversely, brass is on the rise because consumers are leaning towards warm tones to create a cosy and inviting room. If you are looking to follow many of the trends on this list, green cabinets and brass handles look stunning!
I personally love cup handles and have seen these rise in popularity recently on classic kitchens at The White Kitchen Company. Cup Handles come in a wide range of styles which can completely transform your kitchen. Round, square, longer or shorter - there is a style for everyone.
The open shelving trend is known for splitting the opinions of kitchen designers. Some love it and others don't. I personally think open shelving is great for creating a feature in your kitchen; they grant you the perfect space to inject some personality and character into your kitchen. For open shelving ideas, why not showcase your favourite glassware or small ornaments? To add a punch of personality, maybe place small framed pieces of artwork here or family photos. This is a really simple but effective way to add your own stamp to your kitchen.
For this reason, I think the open shelving trend is here to stay. It is flooding the kitchens of instagram and people are enjoying adding this fun, personal touch to their kitchens, so I predict it will be trending for next year and beyond too!
I personally like to think of lighting as a piece of art, a sculpture almost. It seems many others have this same attitude towards lighting because, now more than ever, customers are opting for statement lighting to enhance the kitchens' design and create a beautiful focal point.
Pendant lighting is a key favourite to achieve this look and many choose to hang these lights in threes over their kitchen island, for example. This is a classic trick that many designers use in their projects as odd numbers always look the best! In addition, by using lighting in this way you are successfully zoning different areas of your kitchen and creating a beautiful centre point with these low hanging pendants.