As an Interior Designer I am regularly asked by clients how to add colour into their country interiors so I thought I would put together this Blog to offer my advice. As a lot of my work is on Country homes, I often start by using a neutral base and then I try to mix them with stronger colour accents such as blues, teals, greens, pinks and mustards wherever possible. As a general rule of thumb you don't need to go overkill on colour in order to create an impact. I begin by asking a client if they have a favourite item in their home that could be incorporated into their scheme, such as a piece of artwork, a lamp, or a rug. Most of the time they do, however if not then I suggest mixing a variety of coloured cushions and placing them on sofas, or introducing a mix of vibrant colours through rugs or pieces of art. If you feel braver, introduce a bold coloured armchair and layer it with a bright pattered cushion and straight away you will have created a feature. See my guide below on how to introduce some key colours into your Country homes.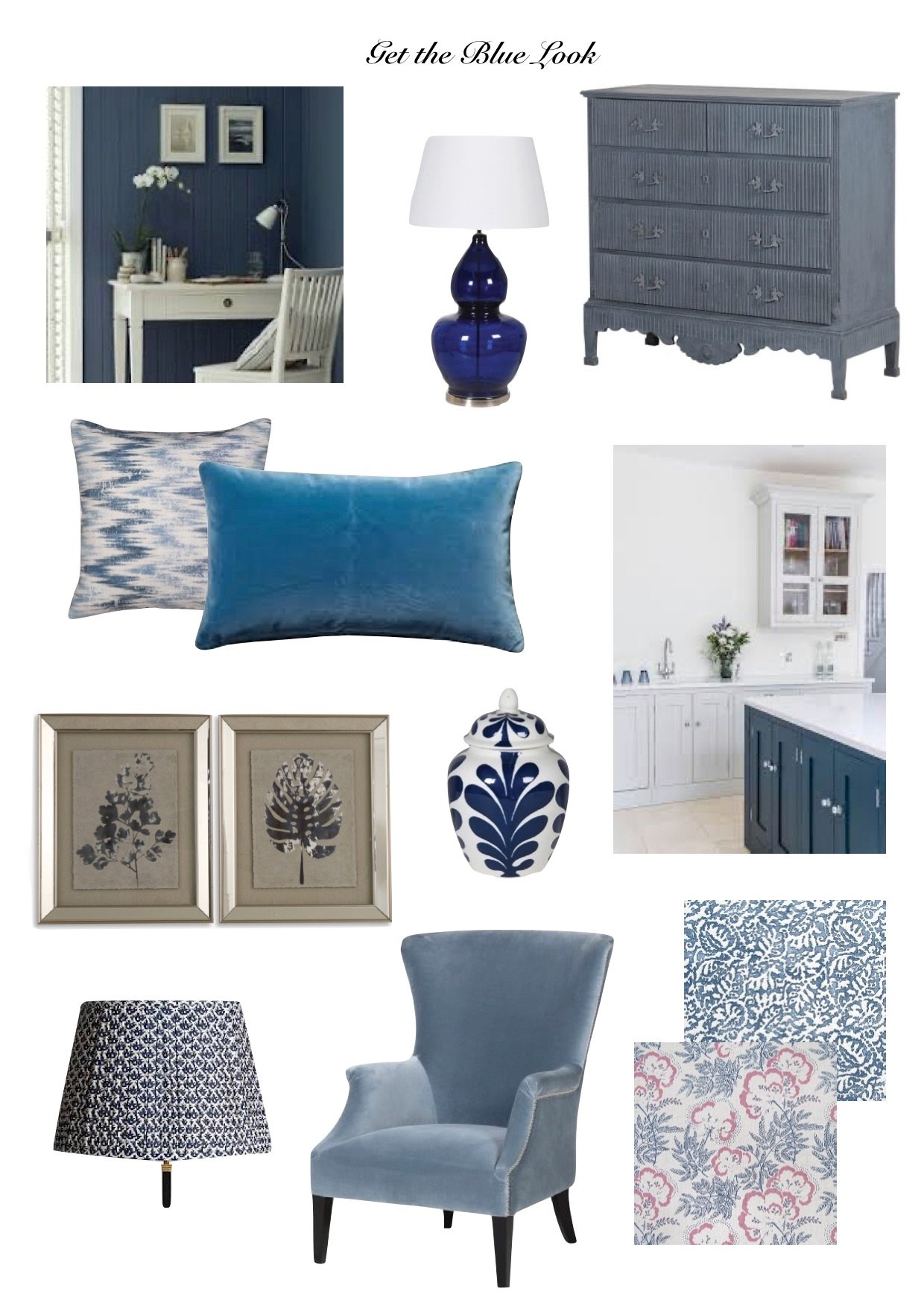 According to trend experts, Classic Blue is the colour to watch this year. So exactly how can we use this colour in our homes?
From pale powder to inky and dark blues – blue has always had broad appeal for use in any room in the house. Its association with the sky and sea make it a good choice for either bathrooms or Coastal style living rooms, whereas bolder inky blues work well on soft furnishing prints. Try the Cordoba in Deepest indigo by Rapture & Wright fabric for a cushion, blind or headboards.
Although dark or inky blue can remain classic, it can also add a contemporary twist and is a good choice for kitchen units mixed with marble or oak. In fact paired with neutral wall units, dark blue was one of the most popular colours for the kitchen island last year, according to leading kitchen companies.
Farrow & Ball's Hague Blue is a firm favourite as it adds drama and richness to any interior. If you don't want to go too bold then mix it with neutrals in a living room and team it with brick red or raspberry furnishings – Oakleaves in Fuchsia by Blithfield looks fabulous against dark blue walls.
If dark or inky blues are too much for you then opt for a mid blue such as Farrow & Ball's Pitch Blue or Paint & Paper Library's Blue Pearl, as these are more traditional and work well against oak and light stone flooring, so lend themselves perfectly to country interiors. Alternatively mixing a blue wall tile with a neutral also adds country style to a kitchen or utility room.
For paler blue interiors – try Farrow and Ball's Lulworth Blue, Parma Gray or Bone China Blue by Little Greene, all of which can be used to create tranqility and calmness in a bedroom or hallway. To create a Coastal look pair these blues with white or mix them with earthy reds or yellows to add warmth. Alternatiely, if you don't want to paint an entire room in a soft blue, then use a neutral shade on the walls and introduce different levels of blues on wallcovering or soft furnishings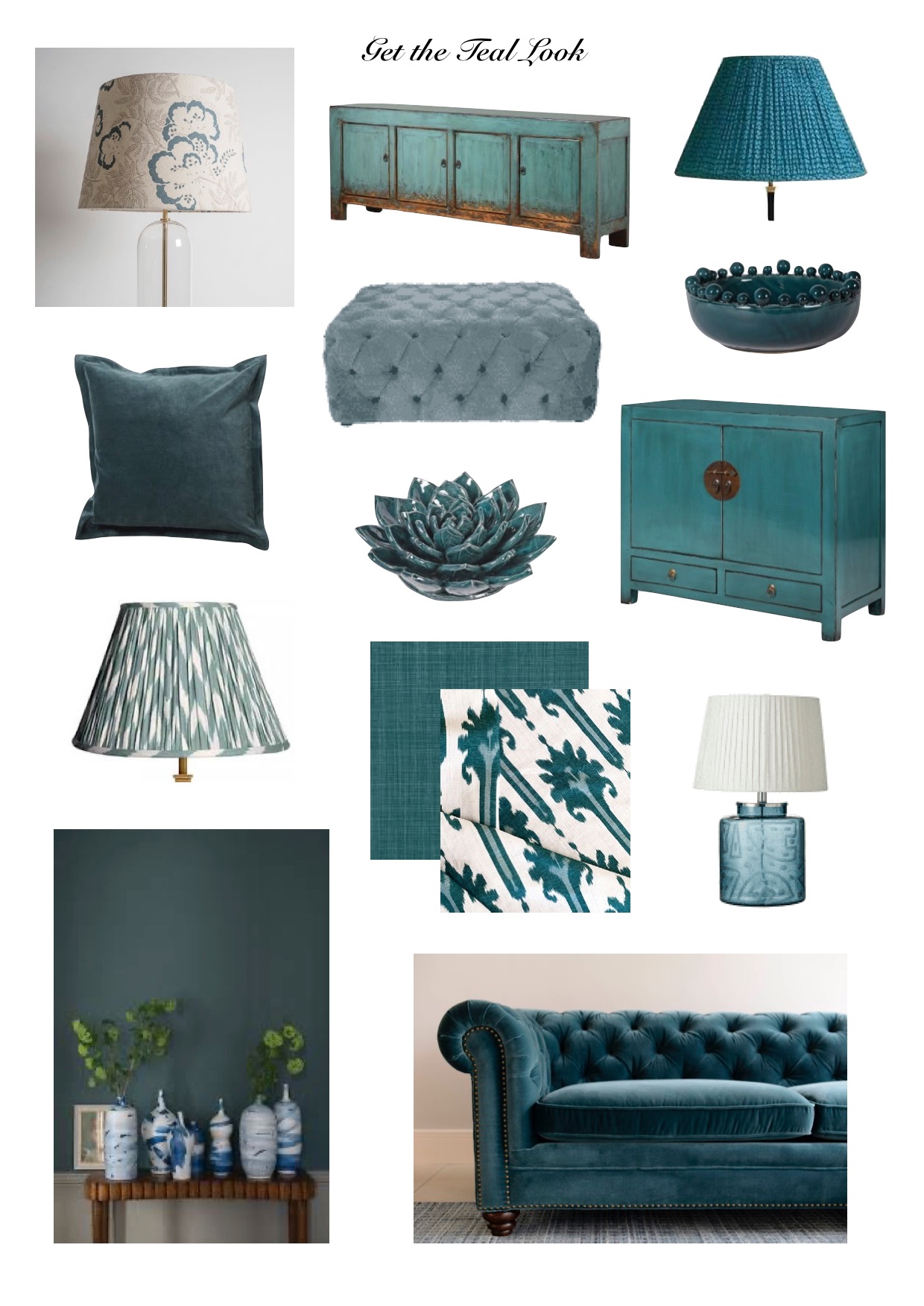 From dusty teal to dark teal - this dramatic colour adds richness to a scheme and has been extremely popular over the last couple of years. When I think of Teal I imagine peacock feathers with their beautiful mix of vibrant greens and blues.
Teal strikes a more contemporary note than blue or green, which remain more classic. Inchyra Blue by Farrow and Ball is a beautiful rich teal shade.
Teal is such a versatile colour as it works well with so many different combinations from soft aqua, grey, mustard and practically every shade of pink. Use it on smart kitchen cabinetry and mix it with copper, brass, oak or marble. Or try using some dusty pink accents with it by painting a bench or chair in Sulking Room Pink by Farrow & Ball.
Options are endless with teal –it also looks fabulous used on upholstery and makes a bold statement in a living room. Try Loaf's Jonesy armchair or sofa in Timeless Teal - Vintage Velvet. Or if you aren't quite sure about using it on larger surfaces, start by using it in a throw, cushion or lampshade mixed with a neutral.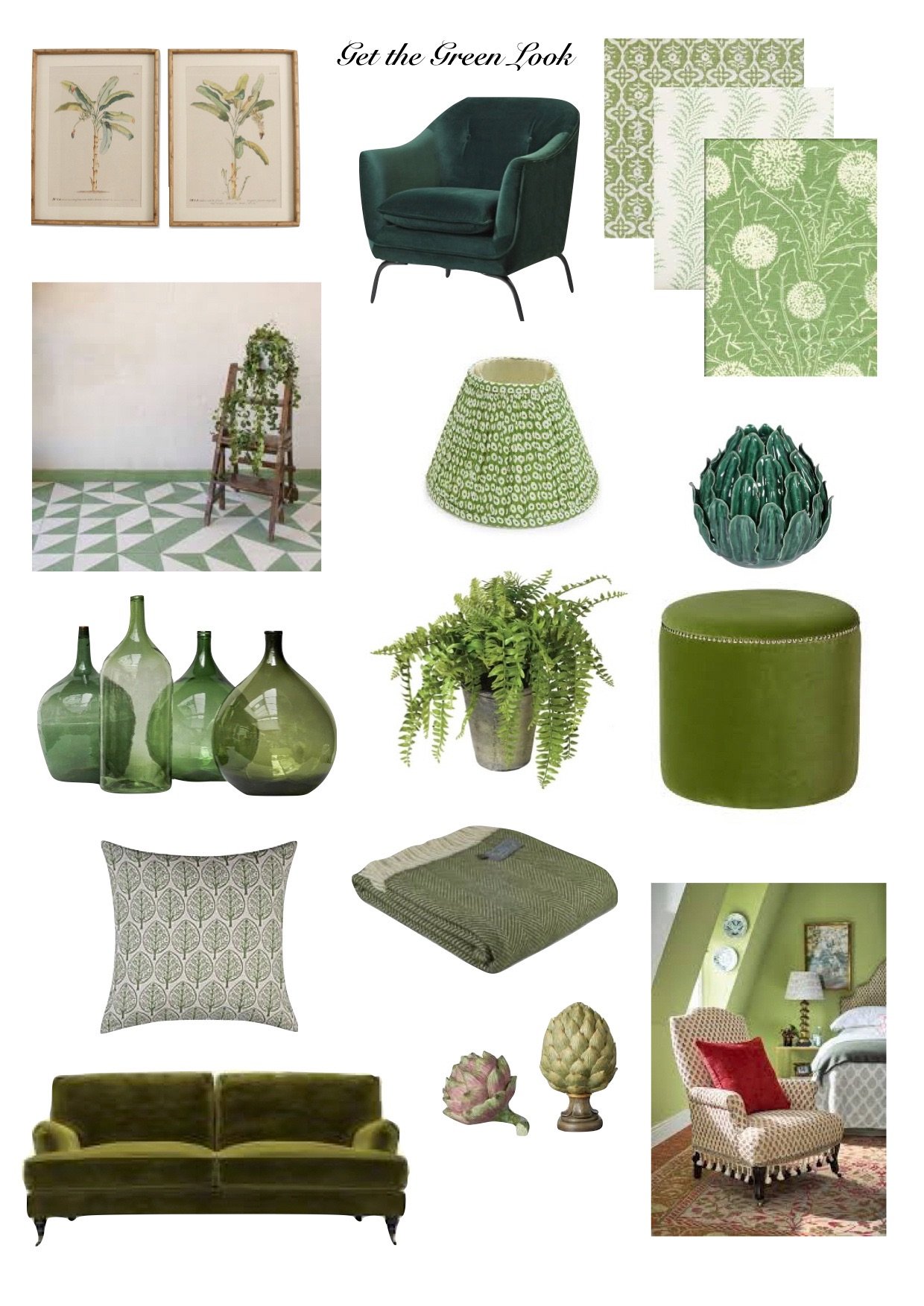 Greens are my current favourite as they connect perfectly with the outside world, and so feel perfect for the home. My current colour crush is green with pink, which creates a more contemporary look and works well in fabrics or tiles.
For a fresh and decorative green wall or floor –try Bert & May Green Alalpardo or Green Salon tiles in a small space such as shower room or utility room.
Greens can be made to look fresh with yellows or more classic with reds. It's a soothing palette, and looks great in any light as well as working well with plants and foliage. Green is a truly glorious and versatile colour, which always adds a sense of calm and lends itself perfectly to Country homes and interiors.
There are many different shades of green from apple green, leaf green, deep forest green and sage. Sage is probably the most commonly used shade used in Country interiors, and works well in living rooms, hallways, bedrooms, kitchens and bathrooms. It can be mixed with a variety of colours and textures from mustard, amber and russet and paired with weathered oak furniture and neutral furnishings. For the perfect Sage backdrop try French Grey, Blue gray (both Farrow & Ball).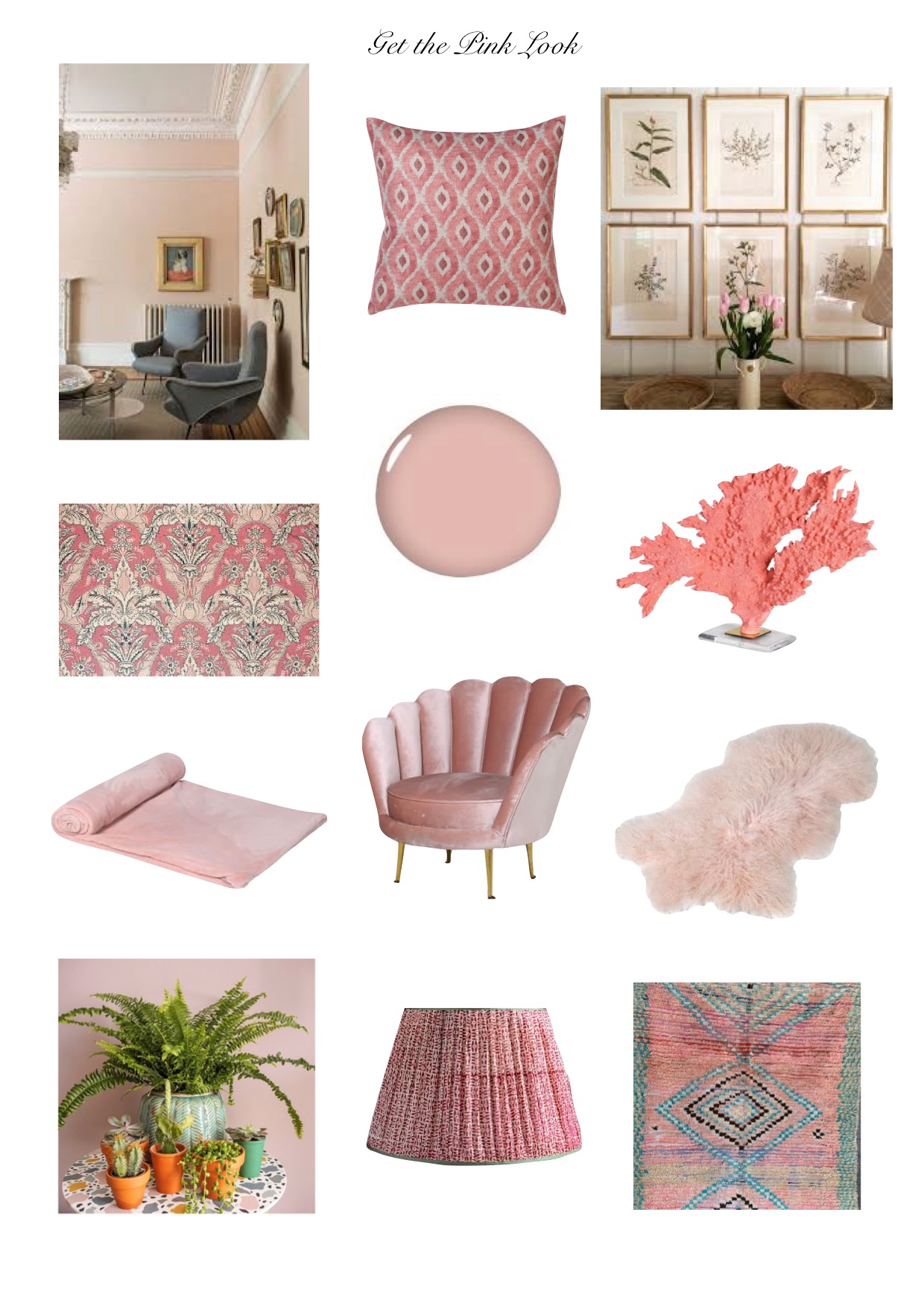 Pink still remains popular and depending on the tone used, it looks great as a backdrop or as a bright accent on a rug or lampshade. There are many ranges of pinks from plaster pink to mid tones of rose and peony, and bright corals and fuchsias. It's a natural choice for a pretty children's bedroom and Calamine pink looks lovely in a little girls room, as does a neutral with pretty pink soft furnishings from peony & Sage.
As well as being used in pretty schemes, pinky coral tones can also be used in punchy interior schemes when mixed with the blue, teal, green or grey.
I'm currently working on scheme using the beautiful Dabke fabric in Rose by Alice Sergeant which looks stunning.
A perfect wall colour for a Country bedroom would be Setting Plaster by Farrow & Ball, teamed with neutral and fresh green accessories such as Pooky lights/lampshade in green spot.
In a country bathroom or bootroom, try making a statement using floor or wall tiles such as the Brompton Clarence Porcelain tile or Bert & May's Pink Santona tile