One of my recent Instagram posts was of a bespoke ottoman that I was having made as part of a commission and it sparked a fair bit of interest, so I thought it would be a good subject to talk about on this blog.
Firstly, what is an Ottoman stool? Well, it's a multifunctional item and is a good investment piece for the home. Brought over with the Ottoman Empire in the 18th century, an ottoman was an overstuffed piece of furniture without a back or arms. They were mainly built around a pillar and provided both seating and storage, however these days they are free-standing and can be used as a footstool, seating and also as storage.
A google search for a footstool or Ottoman will bring up similar search results, but the main difference between the two is that an Ottoman will have storage inside whilst also providing seating on top, whilst the footstool doesn't have any storage.
In living areas, ottomans are great as a footstool to compliment a lounge chair or as coffee table with a large tray placed on top to flatten the surface for adding coasters, vases, books and candles. Plus, it can also provide some seating for those unexpected extra guests and store magazines and newspapers to keep the room looking clutter free.
A longer, more narrow ottoman is best placed in a bedroom in front of a bed to provide seating whilst dressing. Or in a large walk-in wardrobe they can be used as seating in the middle of the room which will break up the space nicely. Ottomans are an ideal item to store any spare bedding or blankets but can also store clothing on top (no not for discarding clothes from the day before, but perhaps for laying out the following days outfit?).
Like I mentioned in my previous blog about rugs, ottomans can create a feature in a room and so be bold in your choice of colours, fabrics and legs. A simple ticking stripe linen or heavyweight cotton would help create a calm yet sophisticated neutral focal point like this stunning footstool from Loaf. Adding a pop of bright velvet instantly transforms a room into a luxurious, yet fun space like this one from Oka or this one from Made.com. For a more traditional look, go for a hard-wearing fabric such as tweed, which will provide durability along with a smartness to any upholstered furniture piece. These four variations of highland tweed from Sofa.com will smarten any room. Or a button padded leather will add more masculine style and will age well as the leather softens with use. Create a statement ottoman or footstool by picking a stand-out fabric, like these design from Blithfield, who are known for their bold printed fabric designs.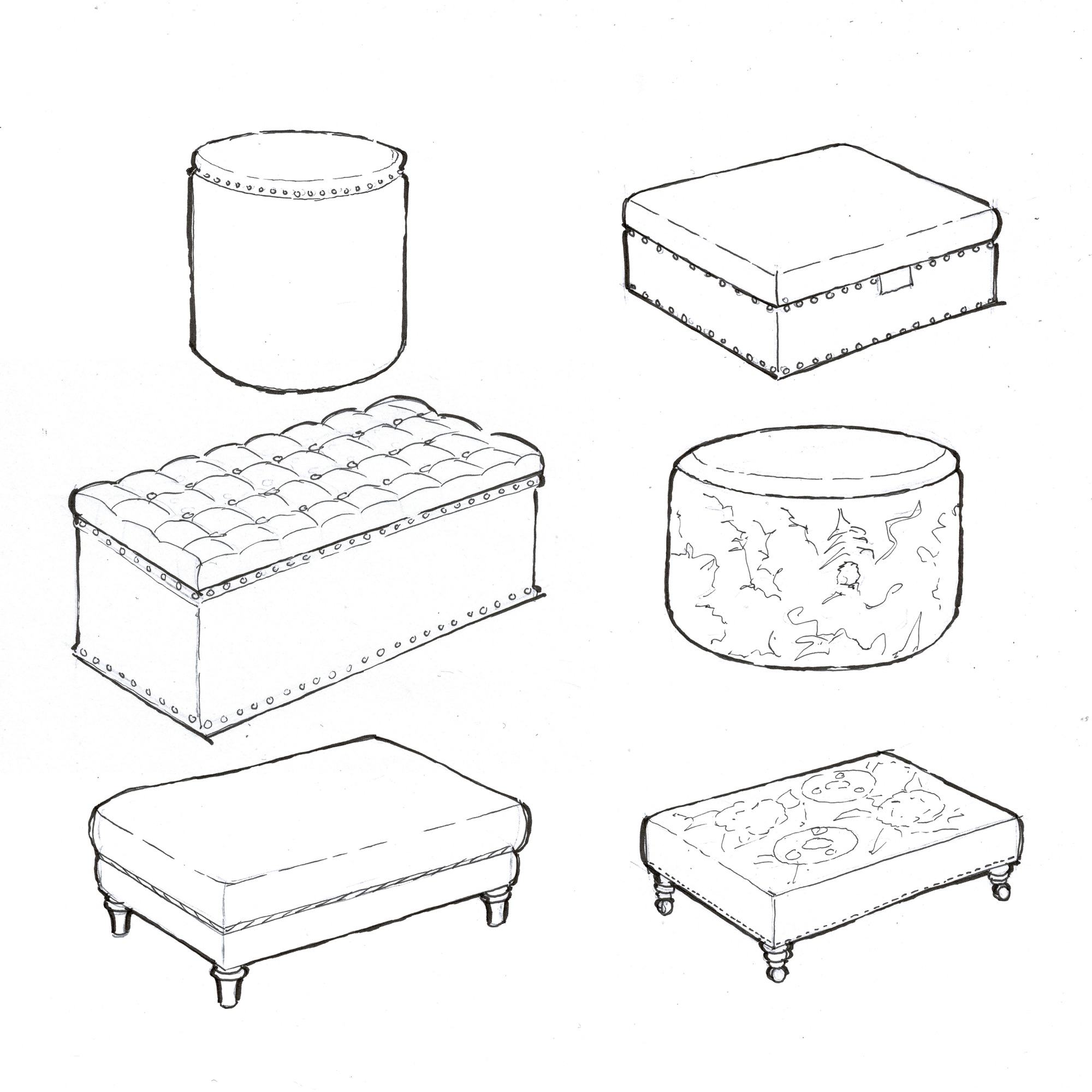 Creating a bespoke piece of furniture is so personal and can become a family heirloom, passed through the generations. If you have fabric that has sentimental value to it, then have this incorporated into an ottoman stool and it will become a treasured item in your home for many years to come. Bespoke furniture allows the client to decide upon every single element to the design. Size, overall style, function, cushion buttons, choice of legs and most importantly, where your bespoke item will live.
There are so many variations of ottoman leg types that you can make it a truly bespoke piece of furniture. Traditional legs can be made from turned wood and treated in oil, varnish or chalk paint. Or for a more modern vibe then perhaps go for a plain square or bun wooden shape. For a contemporary feel hairpin legs can give an industrial look to a traditional piece of furniture. For inspiration on what types of legs to use, click here.
If you are considering having a bespoke Ottoman or footstool made for your home, then please contact me either on my Instagram account @carolineborgmaninteriors or by using the contact page on this website and I will be happy to help.
As always, if there are any areas in the home that you would like me to focus on or a specific item of furniture for my next blog then please DM me on instagram and I will see what I can do.
Now, time to put your feet up and get cosy!
Caroline x