With us all spending a lot more time indoors these days, our homes have become our sanctuaries, although many of us are spotting that perhaps we need to update the décor a little. The changing seasons encourage us to revamp our homes and bring elements of the new season into our furnishings and décor. Therefore, I want to be able to provide you with some inspiration on how to inject some winter cosiness into your home and in particular, your living room.
To create warmth and texture, think about adding in a variety of natural materials which are more breathable yet cosy. Decorate with lots of soft cushions and drape wool blankets over chairs and sofa. Tweedmill have been producing pure new wool throws for over 40 years and I adore their crossroads, diagonal stripe and herringbone patterns.
Velvet is a plush, luxurious, hard-wearing fabric, so consider making or having cushion covers made with something like a Linwood Omega Velvet as seen here. Change your rug to a deep pile such as a berber or Kilim rug or drape a sheepskin rug or reindeer hide over a chair (see my previous blog for more styling ideas with rugs). Linen interlined curtains will keep any cold draughts out plus will act as a noise barrier. Peony and Sage will always be my go to for linen fabrics such as these.
Seeing something of a resurgence recently, dried flowers and grasses are a fantastic alternative to buying in fresh flowers plus you can showcase your vases rather than storing them at the back of a cupboard for months on end. Some of my favourite dried flowers are these from the talented Emma @cowshed_flowers. The stunning wreath and floral arrangements you can see in these photos are all Emma's creations.If you are creating your own wreath, try adding a pop of colour with the addition of berries or just keep the arrangement more tonal and natural with eucalyptus, bunny heads, acorns, pine and fern.
Whilst I adore dried flowers, nothing quite beats having a real Christmas tree in your home with the fresh smell of pine filling the room. Add to scent by adding freshly cut eucalyptus into a vase of water. They should last approximately two weeks in water and then you could dry the eucalyptus and use in a wreath or to decorate presents with.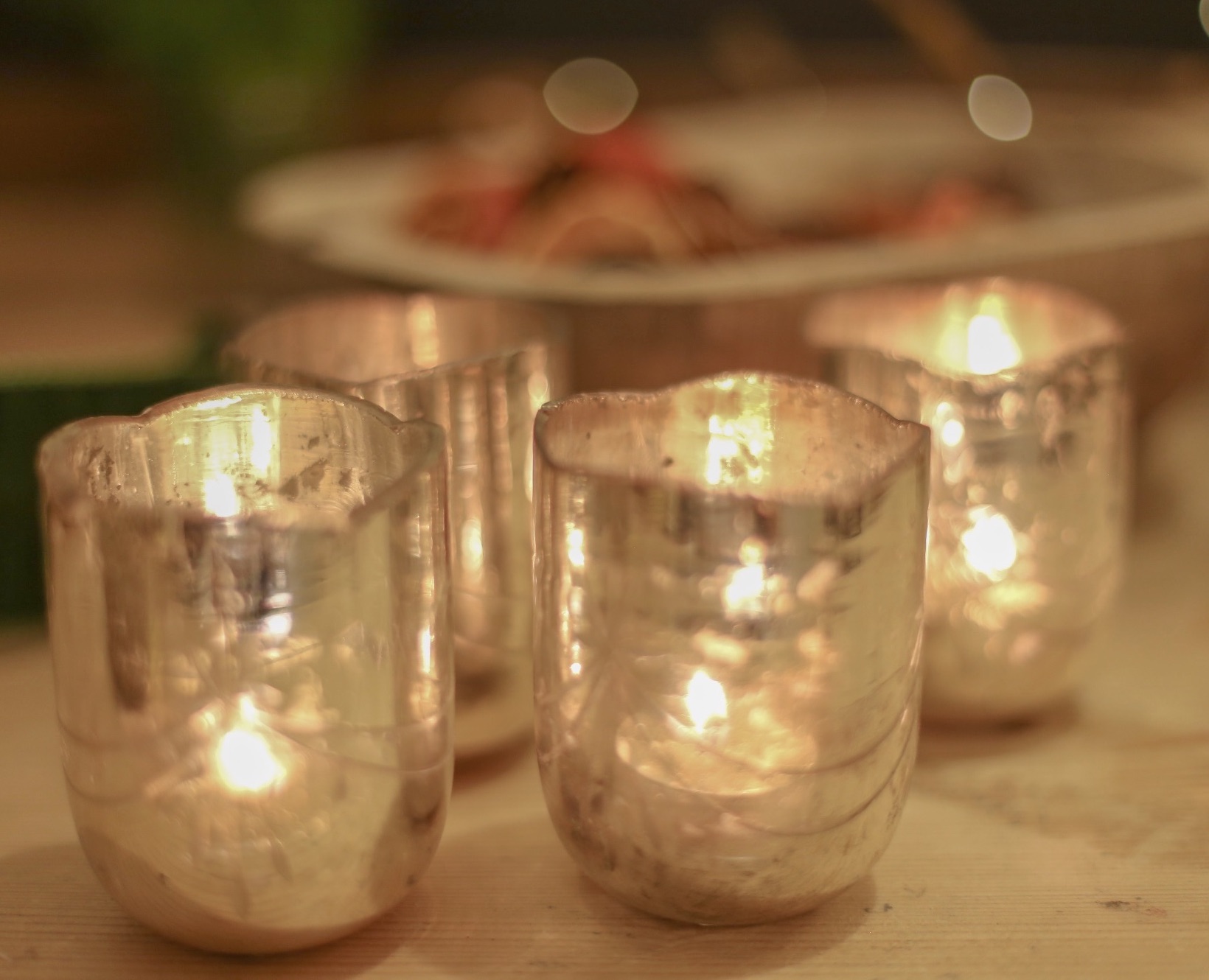 Winter is the time of year when candles become an essential purchase. Candlelight is not only warming and romantic, but can fill a room with fragrance and also enhance your mood. The White Company Winter candle is my go-to for the season and really evokes the scent of Christmas with hints of orange and cinnamon spice. Biggie Best stock a range of pillar (non-scented) and fragrance candles. Their large multi wick spiced apple and pumpkin candle is another seasonal must-have.
Dyptique, Aesop and Ciré Trudon produce the most beautifully scented candles, but their price tags are higher than a lot of high street candle brands. Not forgetting the classic Jo Malone Pomegranate Noir candle or diffuser. There are so many amazing candle companies emerging at the moment, so it can be overwhelming finding the brand and candle(s) you like. Don't forget your local artisan businesses and support them where possible. If candles are not your thing, then there are so many amazing twinkly lights available. From strings of LED lights to more traditional fairy lights. Try adding them to a table display, inside a clear vase or cloche or simply hanging over a fire mantle and windowsill.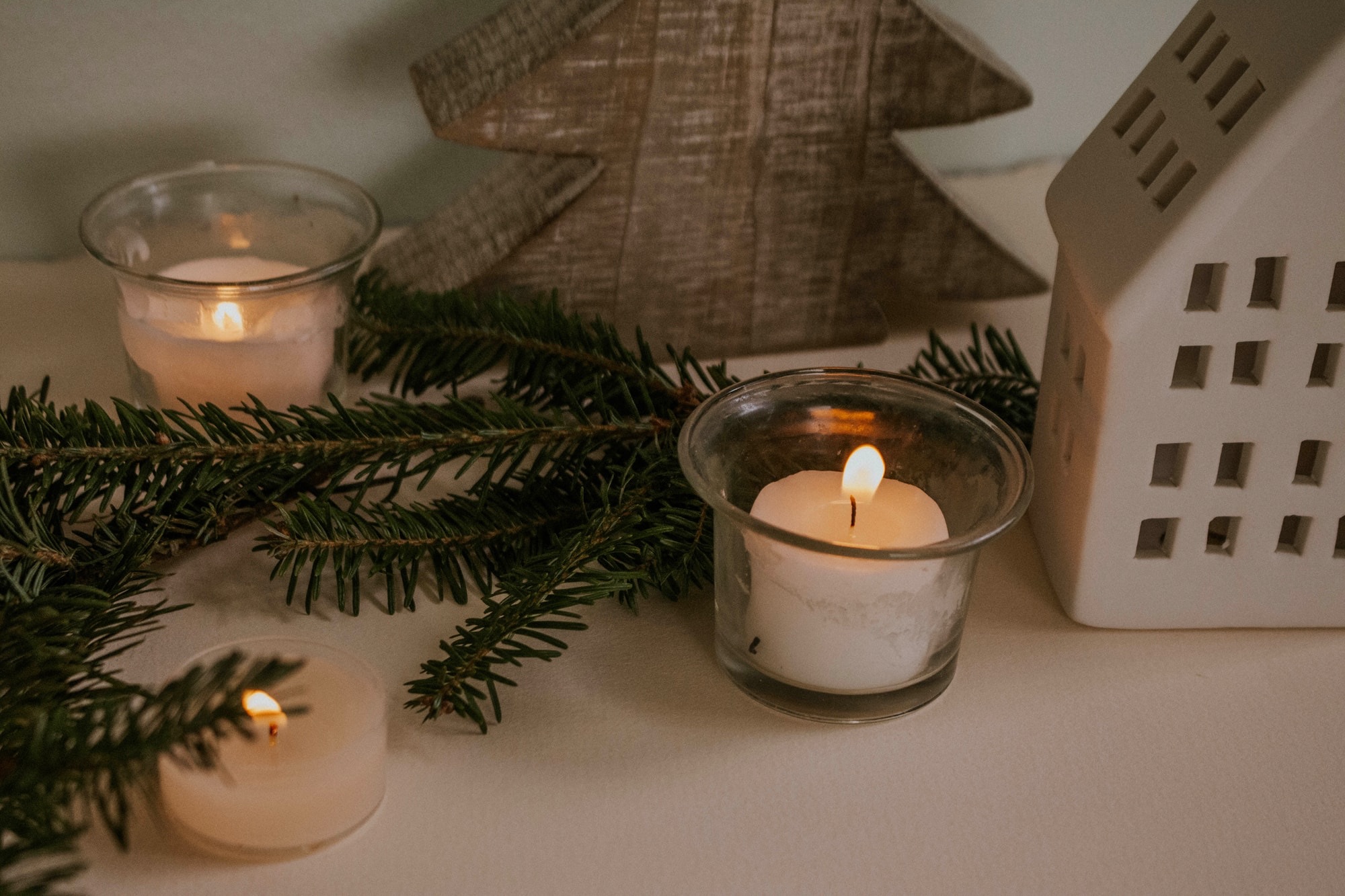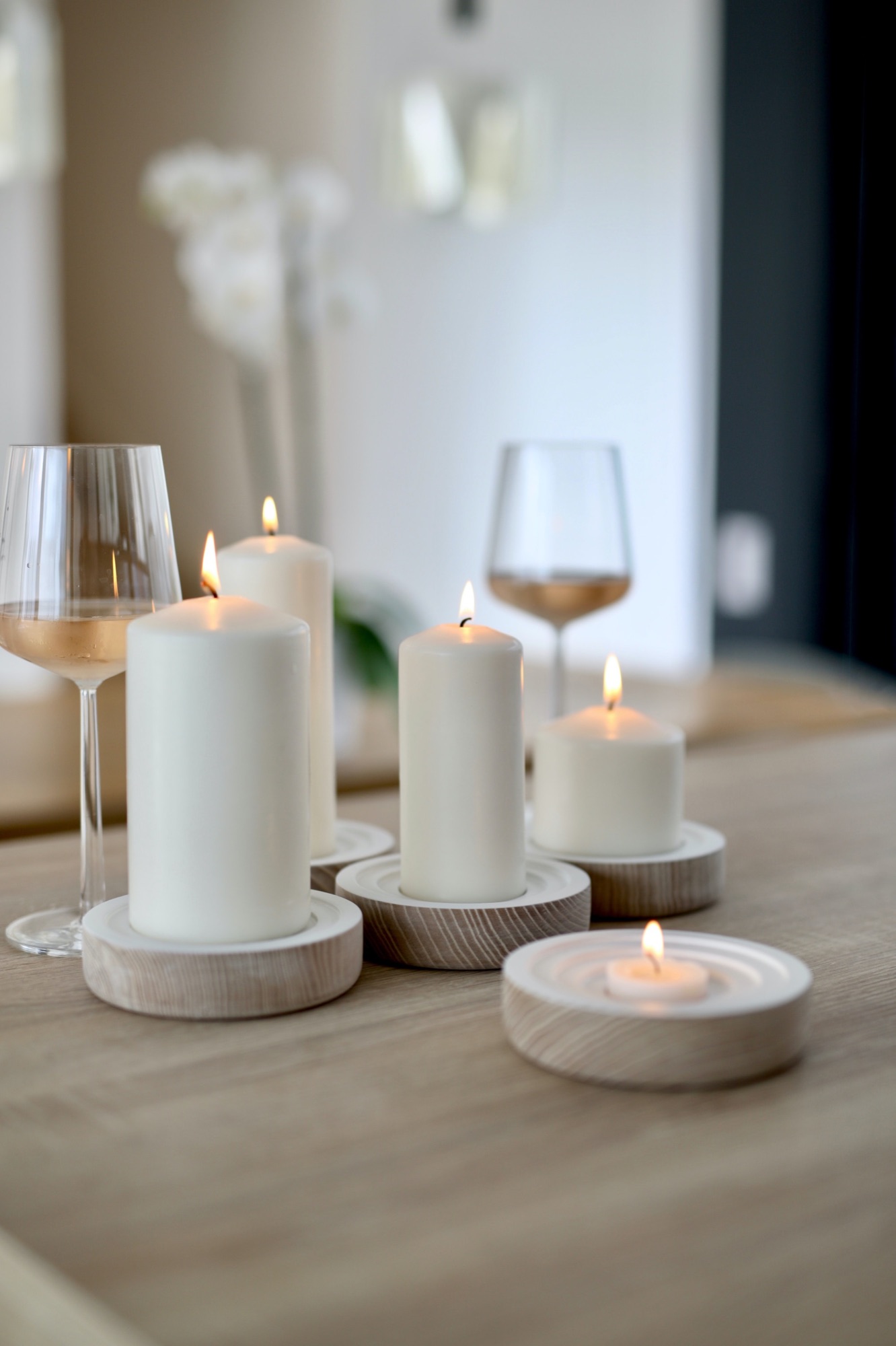 Bring ambience and intimacy into your living room with mood lighting. Try lighting from table and floor lamps rather than purely relying on ceiling lights. Dark corners will lend themselves to being lit by a striking floor lamp, like this one from Rockett St George. Or add a couple of small table lamps to your side tables or sideboard. Pooky Lights offer the most eclectic mix of light shades and bases to suit all tastes. The new Matthew Williamson range of light shades feature colourful animal prints, paisley patterns and palm prints.
Neutral lovers should consider choosing textured light shades, with linens, rattan or velvets. Nkuku always produce a lighting range to suit such tastes, like this wicker floor lamp and this glass lamp with linen shade. Cox and Cox's range of lighting will appeal to Scandi lovers and minimalists alike.
However you decide to style your living room this winter, keep in mind these essential top-tips:
+ Use various lighting to create ambience
+ Candles are a great way to warm up a room with candlelight and fragrance
+ layer natural fabrics such as wool, velvet and sheepskin
+ Bring the outdoors in with fresh or dried flowers and grasses
+ Pour yourself a delicious drink, whether it be a luxurious hot chocolate or a mulled wine
As always, if there are any areas in the home that you would like me to focus on or a specific item of furniture for my next blog then please DM me on Instagram and I will see what I can do.
Stay safe and warm this winter.
Caroline x